London circa 1720 : Corelli's legacy
L'héritage de Corelli
harmonia mundi - 2020
London circa 1720 is the second part of a series of 4 discs on the history of instrumental music in England, from the end of the 17th century to the end of the 18th century, the result of a long research work.
After a first part on the Purcell years, this new opus, dedicated to Handel's early years in England, is placed under the sign of Italy and plunges the listener into the vogue of virtuoso instrumental sonatas and Italian opera. These first years of Handel's life, still very corellian, are linked to some of his favorite instruments in England, such as the recorder, for which many violin concertos and opera arias are arranged.
Works by Georg Friedrich Handel, Arcangelo Corelli, Wiliam Babell, Johann Christoph Schickhardt, Francesco Geminiani,…

Recorded on October 28 to 31, 2019, at the German Church in Paris.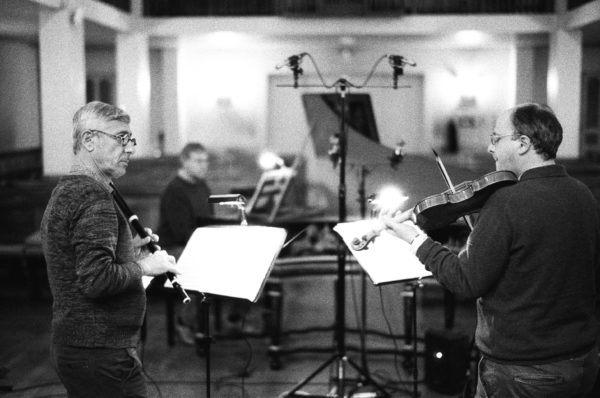 Enregistrement Londres 1720 Photo Robin Davies
Musicians:
Sébastien Marq & Marine Sablonnière, recorders
Serge Saitta & Olivier Riehl, traversos
Stéphan Dudermel & Ajay Ranganathan, violins
Florence Bolton, viola da gamba
Benoit Vanden Bemden, double bass
Benjamin Perrot, theorbo
Carsten Lohff, harpsichord
Production La Rêveuse | with the support of ADAMI, Région Centre-Val de Loire and the city of Orléans
harmonia mundi
Released:
READ THE COMPLETE REVIEW OF THE CD (Dated in January 21) HERE !
« What refinement in the nuances, what intelligence, sensitivity and character requiring musicians such as those gathered around Florence Bolton and Benjamin Perrot to offer us in sixty minutes where nothing is missing to satisfy our happiness. Yesterday fades away, tomorrow is delineated, brilliantly. The musicians were able to seize this moment of shifting with as much mastery as subtlety. »
Christophe Pucek, Diapason, 26 septembre 2020
« An all-round superb album »  
Marc Seow, Gramophone Editor's Choice, 6 novembre 2020
« Warmly recommended »  
Azusa Ueno, Classic Review, 1 décembre 2020
« The care taken to infuse the performed pages with as much colour as possible, while remaining within the limits of good taste, accompanies La Rêveuse from the beginning to the end of this album. Added to this is a technical perfection that makes everything seem ideally balanced and measured.»
Maciej Chiżyński, Resmusica, 17 octobre 2020
« A model achievement »
Philippe Venturini, Classica, 1er décembre 2020
« My Pick of the week »
Thierry Hilleriteau, Le Figaro Culture, 28 septembre 2020
« Wunderbard ! »
Matthias Hengelbrock, Fono Forum, 11 February 2021
« Sonatas and concertos performed with elegance and intensity by a team of excellent musicians. »
Nicolas Blanmont, Newsletter Musiq3 / RTBF, 18 septembre 2020
« The complicity of the musicians and the performance of a serene nobility actually make each page a gem of elegance that Corelli himself would not have disavowed. »
Pablo Galonce, Musikzen, 12 Octobre 2020
 « La Rêveuse treats these musical treasures with verve, soulful expression and the right sense of modernity.»
Toccata, 4 Novembre 2020
« A collector's item. »
Jesús Vega Especial, El Nuevo Herald, 30 septembre 2020
« This release is likely to be both enjoyable and educational for everyone from general listeners to specialists in English music of the High Baroque. »
All music Review
Extract